Perfect Place For You To Find
Such A Solution Which Will
Record All The Essential Details
WHAT IS HRMS?
BTC Human Resource Management System offers a complete HR and Payroll Software Solutions for the organization, who wish to increase the employee productivity for a business. It allows a business to efficiently manage the entire Human Resource life cycle. Our HR & Payroll Software Solutions in Dubai, UAE is well developed to eliminate unwanted costs involved in a business. Furthermore, if you are in need of HRMS Software or Payroll Software or other functionality softwares related to Human Resource. Our HR and Payroll  Solution in Dubai offers your business a complete all in one package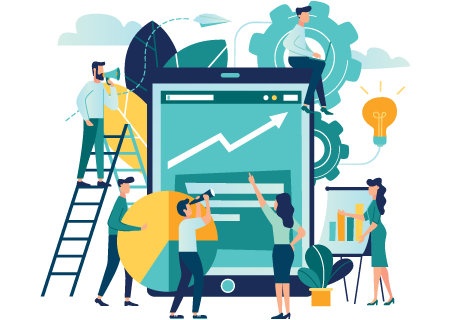 Risk mitigation: It decreases risk mitigation by providing read and accepts facility so no employee can deny from training or information provided
Accurate: Gives justified result as the evaluations are done on systems.
Administrative task: Helps in administration task through proper paperwork system and keeping a record of employees
Spend less time sourcing and assessing candidates and more time meeting qualified candidates and attending talent scouting events using RPA fo HRMS
Robotic Process Automation for HR focus on developing programs that prevent issues from happening rather than investigating cases after incidents have occurred.
Payroll
BTC HRMS provides a better control on your payroll process. Automatic Deductions and allowances calculation before processing payroll and prepare the trial and make final Payroll Check list for the Employees. It Supports Bank Accounts and multiple currencies. Prepare Payroll Segment wise like division, department, cost center.

Recruitment Management
HRMS manages job Classifications and Requirement posting, register Applicants and CV creation. Job Applications : Receive CV's Online, CV Short listing and Interview Scheduling, Interview Summary, Selected Candidates Database, Employment Offers and Contract Negotiation
WPS & SIF File Generation
Merging of employer and employee details that require Wage Protection System report. Provides a complete automated system that generate Wage Protection System compatible with Reports. Generates SIF (Salary Information File) in accordance with WPS. Also, generates Salary File as per the required format of the customers, such as, SIF (Salary Information File) and CSV (Coma Separate Value Excel. It also provides the list of Financial Institution/Banks as authorized by Central Bank of UAE.

Employee Self Service Module (ESS)
Availability of Pay slips to the employees after the payroll finalization. The sample format can be provided. Employee requests for further approval for: 1. Business Card 2. Salary Certificate. View employee document and information. Salary advance request and approvals. Travel request and approvals.Manage All type of Employee Requests, like Passport, Leave, Travel, Certificates.Create Timesheet for the employees

Employee Profile Management
BTC HRMS Provides Flexible Employee profiles with complete details integrated with various modules. Employee Dashboard Employee Job Description Categorize Employee Segment creator Apply the Pay Category with Different earning and deductions Manage and update Employee Salary details & history Employee Contact and Communication Details Manage Temporary Allowances and Deduction Details
Performance Management
HRMS this function helps in goal Management (Management Goal, Employee Goal Setting), align goals with Organization Chart,Conduct evaluation, Multi browser compatibility, User specific permission, Custom factors setting, Link to Training Courses, Cascading a Goal, Route for Approval, Categories, Competencies, Rating Keys, Prepare for Appraisal, Finalize for Appraisal, Appraisal Results Total Appraisal Report, Best performers list, Poor performers list, Next Appraisal date
Time Attendance
Time & Attendance System by BTC, is an application meant for managing Employee's Attendance. This is an extended application which can be used by employee himself to interact with attendance system and thereby allowing them to request for making necessary correction of attendance data.

Access Terminals
Our HRMS offers terminals that allow access with cards or remote control, according with the authorization.. Time slots of Access control readers, which are developed with the latest technology, are easy to install and use.
Stand Alone (programmable with a Master card), or connected via LAN, the readers are available with radio frequency technology to read the card without contact, or biometric with fingerprints.
Software Pricing
HRMS subscription pricing model is most often contracted on an annual basis. If you are looking for affordable HR software companies in Dubai then BTC is the best choice for you.
Additional purchasing options are available – learn about user types and access rights. To learn more about this, contact us.
LOOKING FOR HRMS IN DUBAI, UAE?
Get FREE Quote for HRMS Now