Odoo is the best management software to run a company.
Millions of happy users work better with our integrated Apps.
WHAT IS ODOO?
ODOO, formerly known as OpenERP (Enterprise Resource Planning), is a platform that companies can use to easily manage the basics of the company such as materials and warehouse management, human resources, finance, accounting, sales and many other enterprise features.Odoo is available in the cloud or on-premise and can be used by businesses of all sizes. Because it's open source, Odoo software is highly customizable. Developers can access the code and modify it to make changes in the modules based on an organization's requirements.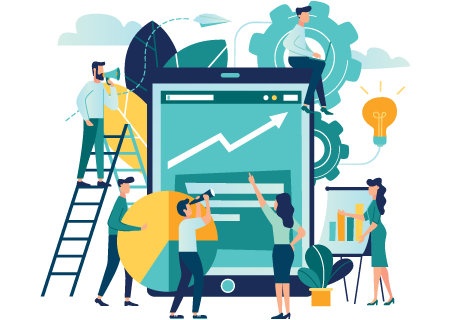 Defining the solution: ODOO has its own open source infrastructure called OpenObject framework. It has about 30 core modules to handle its functionality and over 3000 community modules that extend the core functionality. Depending on client's needs, the developed module has to allow actions to be taken at the component level of a returned system, to enable and track email communication with customers and to integrate with other ODOO features, workflows and documents.
Defining the specific benefits: The system can be easily configured and tailored to any specific needs the client might have after the implementation.
Fully Integrated system: Odoo covers all your business needs in a one-stop solution: no more interfaces between different software required. Odoo apps are perfectly integrated to each other, allowing you to fully automate your business processes
ODOO CRM
Odoo offers an intuitive user interface designed for sales and a dashboard that renders a broad overview of the sales activities. Also, it supplies useful tips and best practices to enable customers to strategically configure and deploy their CRM. Odoo's mobile user interface accommodates members of a distributed sales team, even without an internet connection.
Inventory
Odoo's unique double-entry inventory management allows full tracking of materials and product from the supplier to the customer. Customers can pack and deliver orders with or without barcode scanners. Odoo prepares delivery orders for customers based on availability.
Manufacturing
Companies can use Odoo to manage all their assembly and/or manufacturing operations. Odoo automatically triggers quality checks for the manufacturing department.

Accounting
Odoo automates the entire invoicing process, enabling customers to save time on data entry. Users also get instant access to all accounting features on their mobile devices. With a few clicks, companies can also automatically track assets and depreciation boards and generate amortization entries, as well as manage all events associated with assets.

Employees
With the Odoo employee module, firms can gather in one database all the information concerning each employee, recording each employee's status, job title, contract type, and dates and schedules. Customers can also create weekly and monthly timesheets and trace the time spent by employees per project
On Premises
You need Two internet lines + Public Static IP
Buy Server, Firewall & Gateway
Responsibility of IT Staff
Functional Support and technical support
Client recieves only 1 copy of the system
On cloud
You need One internet line
Hosted on Several Servers
On two servers in different places.
Every 6 hours And encrypted
Functional Support
Client actually receives 2 copies of the system
Software Pricing
Odoo uses a per user per month subscription pricing model and is most often contracted on an annual basis.
Pricing for Odoo offers per user per month subject to a 10 user minimum. The subscription includes the entire CRM suite of sales, marketing and service.
Additional purchasing options are available – learn about user types and access rights. To learn more about the enterprise private edition, contact us.
LOOKING FOR ODOO IN DUBAI, UAE?
Get FREE Quote for Odoo Now