Digitalize Your Human Resource with Sage 300 People
WHAT IS SAGE 300 PEOPLE?
Sage, the market leader in cloud business management solutions, launched Sage 300 People in the Middle East. Offering organizations a customizable, integrated human resource (HR), employee self-service and payroll solution. Providing medium to large business the tools needed to build an efficient, effective HR function and to digitize its processes. Sage 300 People compacts an agile, intuitive and cost-effective HR solution that effortlessly and powerfully processes HR and payroll functions in your business.
WHY CHOOSE SAGE 300 PEOPLE?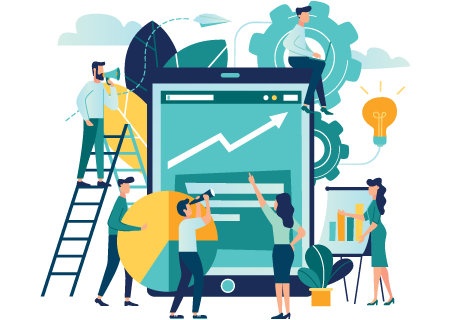 The familiar and intuitive user interface: The friendly and familiar user interface gives you the ability to customize the working space for each user as they prefer
Smart design means fast, efficient implementation: The pioneering design ensures complete implementation in a fraction of the time it takes to install other systems of this caliber.
Universal calculation engine: You can use this in any design area – from calculating medical aid deductions and printing detailed reports to generating complex job-costing calculations. It's just one example of how Sage can gives you cohesive, comprehensive and configurable solutions that break legacy configurations.
Payroll Management
Unlimited companies, hierarchical levels, employees, pay period configurations and pay runs make the system boundless. Create unlimited Earning, Deduction, Company Contribution, Fringe Benefit or Provision definitions. Receive all the latest statutory updates regularly to ensure you're always fully compliant.

Human Resources
The Sage 300 People HR modules are process-driven and follow a systematic HR approach throughout. The traditional employee file can be replaced with an easy-to-use, always available electronic file to which you can attach documents.Your employees, managers, and users have access to real-time information from multiple locations simultaneously.
ESS Management
Sage 300 people helps in scheduling of tasks, notification of scheduled tasks on the individual's list. Security access to allow certain users to initiate, execute and complete tasks, logging and recording of workflow processes

Security Management
Sage 300 People has maximum security and control based on best practice protocols. Assign multiple security configurations to multiple users – define who views which data. It define security on navigation level, apply password policies, and integrate them with MS Active Directory for single login efficiency
Budget Management
In this module, SAP Business ByDesign supports 79% of the functions and features. This is good, but could be improved. Other ERP software solutions on the market cover an average 92% of Purchasing Management functionalities, and the best-ranking solution covers 100%, meaning the SAP software package is at a noticeable disadvantage here.
Company Management
Sage 300 people create Unlimited companies per database. Define multiple payment cycles per company e.g. Daily, weekly or monthly, use any combination of these cycles within a single company
Subscription Options
If your organization is ready for the cloud but not ready to change your on-premise Sage ERP system – Cloud at Work is the Sage 300 people hosting option for you
Public cloud
Shared hardware
Quarterly releases
Minimum tenants: 1
Minimum users: 20
Private cloud
Dedicated multi-tenant system
Quarterly releases
Minimum tenants: 10
Minimum users: 200
SAGE 300 People Pricing
The price of Sage 300 people depends on a variety of factors including required functionality (feature bundle selection), user count, implementation and support needs and promotion eligibility.
LOOKING FOR SAGE 300 PEOPLE IN DUBAI, UAE?
Get FREE Quote for SAGE 300 People Now