RUN YOUR BUSINESS WITH EASE AND INNOVATION
WHAT IS SAGE 50?
SAGE 50 is an accounting software for small and midsize businesses to improve the performances in the area of sales, HR, Payroll, accounts in a way that it is easily accessible to all under one integrated system. SAGE 50 can be installed in your local computer using Microsoft Excel program.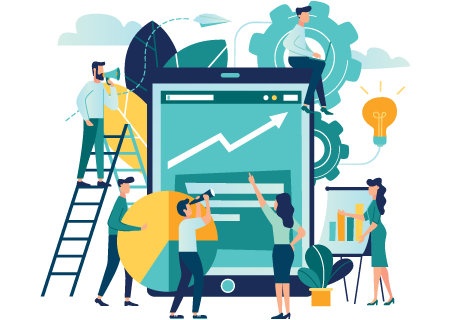 SAGE 50- An Accounts' Expert: Everyone does not know about accounting much and as a human cannot bring accuracy much, but with this software, you can have account expert in whatever desktop you required.
VAT Management: Sage 50 software itself manages returns by verifying VAT and then you can submit this to the required place from your software directly without much hassle thus saves your time and effort with the best of services of VAT compliant software in Dubai.
Multiple Currencies And Languages: SAGE 50 deals in multiple foreign currencies and languages which helps your business to do the operation from wherever required and understands your needs according to your wish with easy accessibility towards tools.

Customer Management
SAGE 50 in Dubai helps build a good relationship with the customer by providing them with every suitable service they require. Makes invoices, quotes, and statements for customers. Finds customer information and hide customers that are inactive
Suppliers Management
SAGE 50 helps suppliers with providing them invoices and statements. Makes budgets for their ease. Saves suppliers every required record in one place. SAGE 50 helps in urgent payments record and outstanding payment modes easy. Purchase invoices are made within no time

VAT Management
SAGE 50 efficient tool VAT Wizard helps in completing VAT return. Tax management using SAGE 50 is now easy. Inbuilt calculator in this software helps the customer to reconcile VAT easily. Manages VAT Cash accounting system. Provides VAT verifying system
Inventory Management
Defines properly inventory management system. Using this software business are able to configure codes, description, and prices. Allows to add barcodes and QR codes to make the work speedy. Report and invoices are setups in this software. Out of stock products are hidden through this software

Manages Business Performances
SAGE 50 manages business performances by preparing different reports, doing work of sales and finance of your business in UAE which ultimately helps you to analyze the performance and make improvement in that accordingly.
SAGE 50 ME
Sage 50 ME Edition is an accounting system and solution for business operation of small and medium-size enterprises. Manage operations, draw reports and identify trends and opportunities from one interface with SAGE 50 ME in Dubai.
·       Manage financial operations
·         Manage cash flows
·         Easily accessible
·         Manage bills transactions
·         Manage cost and expense
Sage 50 Premium Accounting
·          Easy customization
·         More users with control
·         Easily accessible
·         Manage business expenses
·         Manage and track inventory
Software Pricing
With SAGE 50 all profits, loss, cash flow is in front of you, in this way you can keep positive cash flow and this is budget friendly
LOOKING FOR SAGE 50 IN DUBAI, UAE?
Get FREE Quote for SAGE 50 Now