Budgeting is such an important task that also tends to be logistically challenging because we are used to manually linking spreadsheets together, but there's good news.  Third party software vendors are producing smarter, streamlined tools for today's budgeting and forecasting needs.  If you're like most companies, you are outgrowing the homegrown, manual Excel budgeting processes, so it might be time to look at options for upgrading your budgets and forecasts.  The premier modern planning tools empower you to organize secure teamwork, distributing ownership to contributors and less mess as a budget manager.
Budgets and Sage 300:
Sage 300 allows you to create budgets for this purpose. Accpac budgets are easy to use. You can add them manually from within the program or you can add them in an external program (such as MS-Excel) and import them. Once they have been added, you can use Sage 300 utilities to extract and analyze the information.
One of the best tools for this is the GL Financial Reporter. Within this Sage 300 module, you have the ability to use existing reports that compare actual to budget or to create your own reports that provide needed information.
Budgeting and forecasting usually entails multiple people coming together to shape a financial plan.  Planning involves a comparison of historical actuals with research-driven projected numbers.  Finance teams around the globe trust and use Excel, but it can be a pain when you have more than one contributor in the planning process.  While plenty of finance professionals are still relying on Excel, some have over the years moved to Sage Budgeting & Planning, so any best-of-breed third party tool would be an investment beyond their current licensing, which might seem like an expense they could avoid.  In this article, we'll explore the benefits you can experience by implementing third party budgeting software for an upgraded Sage 300 experience.
The best planning software allows budget managers to distribute real ownership to department heads in the process of putting together a budget they have to manage through the year, without lengthy e-mail threads, hefty spreadsheet attachments, or the challenge of linking together spreadsheets.  The budget manager can then make sure that the process leads to a final product of a comprehensive budget that is a result of strong teamwork.  This is the best part – it's not too good to be true.  You can expect a multi-faceted return on your investment: money, time, and energy.
When investing in one of today's dynamic planning tools, you will likely see monetary, time, and morale returns.  However, you might be confused as to what you should be looking for when seeking the best budgeting tool to help you meeting your goals with Sage 300.  Things to consider: Excel, proprietary, and/or a web interface, integration types, and a budgeting solution positioned within a fully integrated, complete suite of Business Intelligence (BI) software.
USING SAGE 300 TO ASSIST WITH BUDGETING
Good budgets encompass three items: past year performance, anticipated or projected revenue, and projected expenses. Analyzing all three leads to an accurate budget that neither overstates nor underestimates the financial needs of a company.
Sage 300 ERP offers regular and timely access to your company's financial information. Because the data from Sage 300 is updated in real time, you can check forecasts versus actual at any moment. Estimating demand and using data to determine inventory levels, restoring needs, and shipping updates all adds to your company's productivity and efficiency. It also helps you estimate whether you need to budget for more inventory, additional advertising, or other needs.
As you sit down to develop your new budget, consider running reports from your ERP system. Depending on how you've established your current reporting system, you'll find the following reports helpful:
Fiscal year-to-date comparisons
These comparisons help you review your overall profit and loss statement against previous performance to date. You can analyze revenues and expenses by category

Accounts payable
Your payables reflect debts that still must be paid. Review recurring expenses and note which areas, if any, you can cut expenses. If none, account for them in your new budget.
Accounts receivable
Before budgeting for next year, make an effort to close outstanding receivables. Review customer accounts to make projections about income for the next fiscal year.
Key Features and Benefits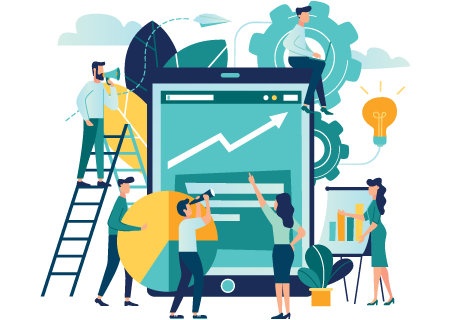 Whether you need to allocate a revenue target or cost projection from the top down, or consolidate several budget plans from the bottom up, Sage Budgeting and Planning accommodates your organizational structure with the following key features:
Plan Sheets – provides seamless integration of budget submissions from multiple departments using a familiar spreadsheet look and feel.
Plan Manager – the "command center" of the application, you can easily distribute, review status and revisions, lock down, and consolidate your Plan Sheets in a way that's seamless and efficient.
Calculation and Analysis – apply powerful calculations and global formulas for seasonal trends and other business drivers. Also perform "what-if analysis" to change plan assumptions and reorganize budget structures to see the potential impact of changes to your plan.
Security and Control – comprehensive security features provide full control over use of plan sheets and authorized users as well as who can view, edit, or modify information.
G/L Integration – integration with your Sage General Ledger means you can transfer information back and forth without ever having to enter data more than once.
Rapid Implementation – the latest release of Sage Budgeting and Planning includes a new Implementation Wizard that simplifies setup and a library of sample templates that are ready to go 'out of the box'.
BTC provides business software and solutions to Small and mid sized companies in Dubai, UAE. We help companies select and use technology, adapting to the ever-changing demands of their industries through new and innovative software products. Contact us today for more information.