GROW YOUR BUSINESS AND LEAD IN THE MARKET
WHAT IS SAGE CRM?
Sage CRM software system helps you to build lasting relationships and have meaningful conversations with your customers in Dubai. It records those engagements, regardless of where they took place and stores the information in one place, where everyone can access it. Having this information at your fingertips lets you provide better customer service, resulting in increased sales, a more loyal audience, higher prospect conversion, and the ability to close more deals, faster. If you want to show your customers that they're a priority, then Sage CRM is for you.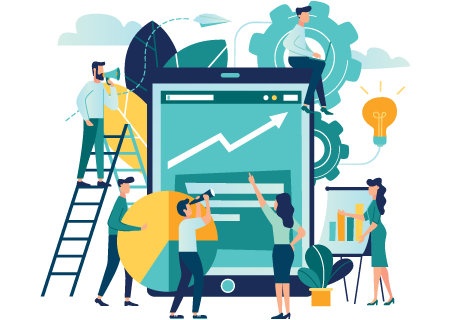 Stay Updated: Telephone, email, social media, web forms, customers engage with your business through a range of channels. Stay up to date with all interactions – regardless of the contact point – with Sage CRM in Dubai
Customers only have to ask once: Repeating the same information to different service representatives waste time and effort. With the entire customer interaction history stored in one place, and accessible by all staff, CRM software makes this problem disappear.
Streamline your pipeline: A CRM system lets you track customers as they move through your sales funnel. It records all marketing communications sent, interactions with salespeople, the time taken to close a deal, and potential problems in your pipeline.
RPA in Sage CRM can process large amounts of information and provide accurate insights into the sales channels of small and medium-sized businesses.
Campaign Management
The more highly targeted your campaigns are, the more successful they will be. Sage CRM makes it easier to deliver targeted campaigns by providing your marketing team with detailed information drawn from across your business. Whether using your own campaign lists or imported mail house lists, executing campaigns has never been easier

Customer Service Management
Sage CRM gives you the tools you need to provide high quality customer care and maintain satisfied customers and helps you to make every customer interaction informative, effective, and profitable. Additionally, it also supports integration with various third-party applications.
Sales Pipeline Management
Sage CRM helps you to get key areas of Improvements, visualize your sales with eye-opening way. BTC sales pipeline management is the best tool to manage all your critical Sales Pipeline.Through this tool you will be able to manage your sales pipeline effectively Based on the stage, you can take a lot of reports based on the segment
Sales Management
Sage CRM directs your sales efforts towards the most profitable, most winnable deals, and helps you make the most of cross-selling and up-selling opportunities. With instant access to pipelines, calendars, sales reports, contacts, and much more, your sales people are freed up to focus all their efforts on selling
Customer Complaint Management
Today's most advanced technology let the customers getting support on time and online. BTC customer Complaint Tracking Software is the solution to manage all your customer complaint with a professional approach.
Forecast Management
An accurate sales forecast can increase sales. Managing forecast for the different sales team and different products based on the territory or products and services. Once the forecast is generated will be notified for all the team members.Real time view of entire team sales forecast and activity. Any rep can go more than the expected or less than the expected, so you need to justify the sales activities all the time.
ERP-CRM Integration Tool
Sage CRM Import Customer, products, supplier from any ERP Systems, Import customer invoices and payments. Export required details to any ERP systems
Sales Commission Tracking Software
Sage CRM manage multiple Target slabs, sales Rep & Agent Details, Commission type, Commission & Incentive Plan,Invoice import and calculation of sales commissions., enable workflow
Quot and Order Management
Allows users to create a quote to be provided to a customer that contain at least products, prices and associated discounts. Order management allows users to process orders that contain products, prices and associated discounts.
Software Pricing
Sage CRM subscription pricing is  per user per month. On premise software pricing is per server andper user license plus an annual support plan
There is also an Easy Pay option for on premise customers. Sage essentially sums the CRM software purchase price with three years of annual maintenance and divides that amount into quarterly payments over three years. The effect is a payment plan similar to subscription pricing however the customer owns the software licenses after that period.
LOOKING FOR SAGE CRM IN DUBAI, UAE?
Get FREE Quote for SAGE CRM Now