Stay innovative and ahead of the competition in the market
WHAT IS SAP BUSINESS ONE ANALYTICS AND REPORTING?
Reporting and Analytics provide a basis to establish, measure and analyze your business performance. You can accurately extract, aggregate and analyze information from various sources and make more informed decisions. Have a look at few of the benefits offered by the reporting and analytics tools to a business.
WHY CHOOSE SAP BUSINESS ONE ANALYTICS AND REPORTING?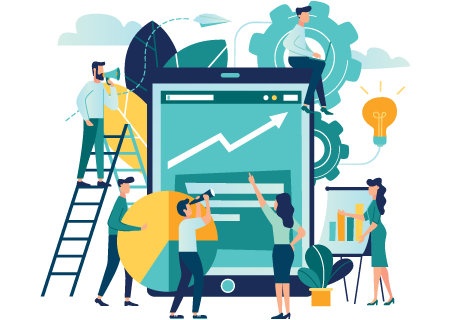 Extract values: Analytics and Reporting help the businesses extract their value by managing the big data.
Operational efficiency: It helps in improving the operational efficiency to drive revenues and success to your enterprise.
Business-relevant outcomes: Using Analytics & Reporting, you can achieve the business-relevant outcomes.
Greater return on investment
 By fully leveraging the transactional and operational data being created and stored in SAP Business One for better, faster business decisions

Human Resources
More efficient and empowered employees because they can generate standard, ad hoc, and live reporting using Microsoft Excel – without IT assistance
Productivity tools
Use predefined content and multidimensional data sources to analyse data and build reports, and use Microsoft Excel to explore and investigate real-time data

Predefined dashboards and reports
Gain access to a variety of pre-built reports, customized around the business processes you use most
Search
Find and access all data in SAP Business One with freestyle enterprise search
 Visualization
You can easily visualize any amount of data whether big or small in real-time without compromising with the performance or security. You can even explore the possibilities of data by creating interactive storyboards.
SAP BUSINESS ONE ANALYTICS VIDEO:
Software Pricing
SAP Business One user licenses are either Professional or Limited types, and each license must belong a named user.  In one time model, you buy your licenses ONCE – then you own them.
SAP Business One can also be purchased through a subscription.  Annual maintenance is included in the subscription price.  Again, each license must belong to a named user.
LOOKING FOR SAP BUSINESS ONE ANALYTICS AND REPORTING IN DUBAI, UAE?
Get FREE Quote for SAP Business One Reporting Now