Gain greater control over your small or midsize businesses by implementing and upgrading supporting platforms for SAP Business One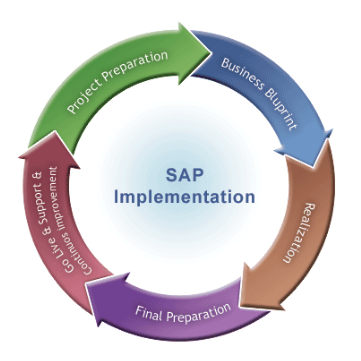 WHAT IS SAP BUSINESS ONE IMPLEMENTATION?
BTC provides SAP Business One solutions for SME businesses in implementing solutions to cater to different needs of business domains. We help clients in implementing SAP Business One quickly with utmost ease, by using the right tools in a comprehensive implementation methodology. SAP Business One is developed by keeping in mind the specific requirements and complexities of each business.
SAP BUSINESS ONE STEPS
BTC uses the Accelerated Implementation Program (API) to study client requirements and configure an explicit solution serving all the needs. This methodology is divided into following project phases:
PHASE 1: PROJECT PREPARATION
The purpose of this phase is to analyze the objectives and needs of the client and provide planning and preparation for the project.
In this initial stage of the project, the team gathers for a discussion wherein they plan the way the project has to be executed and identify the primary focus areas that need to be considered.
A kick-off meeting is conducted in which the project manager, consultants, and account manager discuss the technical issues and project management topics to do planning and execution of the project.
Suitable SAP Business One software is prepared and is delivered and installed for Project Preparation.
PHASE 2: BUSINESS BLUEPRINT
During this phase, a blueprint is created by conducting a workshop with key stakeholders to define scope, schedule and objectives of the project in addition to the relevant business process.
In this phase, the requirement is considered and a common understanding of how the client intends to run SAP Business One for their business is achieved.
Workshops are conducted which is attended by SAP Business One project manager and client project manager who together analyze and define the individual as well as business functional requirements of the client.
A blueprint is created that is a detailed documentation of the results gathered from the workshops, and it acts as a technical and functional guide for the implementation process.
PHASE 3: PROJECT REALIZATION
This is the most significant of all the implementation phases and in this phase, the business process and technical requirements are implemented as documented in the blueprint.
The SAP Business One production system is installed and customized by the consultants after validating and updating the configuration.
The business consultants with the support from the client IT administrator install all SAP Business One components like operating system, database, patches, etc. on the client hardware.
System setup validation and testing is carried out, and required changes are done. The training support and cut-over plan is defined.
PHASE 4: FINAL PREPARATION
The purpose of this phase is to complete final preparation including user and administrator training, system management and cutover activities to finalize go-live readiness.
The purpose of this phase is to prepare the SAP Business One system and the client organization for production go-live.
The key activities of this phase include the completion of the user and administer training and final fine-tuning of the SAP Business One system.
Necessary adjustments and cut-over activities are completed to resolve all critical issues and make the system ready to go live
PHASE 5: GO-LIVE AND SUPPORT
The purpose of this phase is to move from a project-oriented, pre-production environment to live production operation.
The developed SAP Business One system is fully implemented in production and continuous support is provided to improve live operations.
In the project closing phase, the system is used in day-to-day operations and all issues and problems are resolved, and the project is signed off. The support team monitors the system and addresses live business process issues in the continuous improvement phase.
A "Review and Optimization Conference" is scheduled and conducted to continuously review and improve the business processes.
Optimize your operations
Analyze your ERP data in a report layout designed with SAP Crystal Reports offerings.
Build smart, adopt fast, and keep innovating
Find out how you can configure, implement, and upgrade SAP Business One. Set up permissions, generate reports, and extend your software with add-on features. Login required.
Get proactive business critical alerts
SAP Business One features the most powerful proactive business alert system ever developed for small and midsize enterprises.
SAP BUSINESS ONE IMPLEMENTATION VIDEO:
Software Pricing
Getting your SAP Business One software installed and configured, your data migrated, and your employees trained are included in our implementation services.  We take a full business process approach to projects, we don't just install software.  We want your business to run better as a result.
LOOKING FOR SAP BUSINESS ONE IMPLEMENTATION IN DUBAI, UAE?
Get FREE Quote for SAP Business One Implementation Now