Make more informed decisions with improved understanding of your business data
Sage Intelligence Reporting is a module that is available within Sage 300 ERP. It extracts data from Sage 300 ERP and delivers it in a Microsoft Excel format that allows you to design any type of business report, putting you in control. Instead of spending time pulling your data together, you can automate that task and rather spend more of your time analysing and interpreting your data to make informed business decisions.

Save time
View and analyse information quickly with a suite of powerful, pre-built reports and dashboards

Gain control
Take control of your business data with financial reports that you're able to tweak and edit to suit your needs.
Take action
Get a bird's eye view of your business, with the ability to easily drill down into the details and get the insight you need to make better decisions.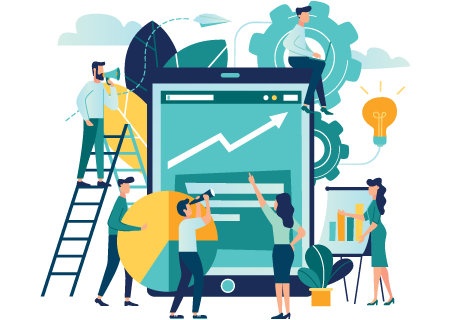 Quickly identify and respond to trends using customizable dashboards.
Use drag-and-drop formulas to easily create and manage financial reporting.
Develop in-depth financial, operational, customer, and vendor reports.
Efficiently view, manipulate, analyze, and distribute reports in a familiar Excel format.
Effortlessly consolidate data from multiple companies, divisions, and databases.
View your organisation in many different ways through flexible Reporting Trees and Reporting Groups.
Extract up-to-the minute high-level summaries, account groupings, or detailed transactions.
What Sage Intelligence can do for you
Get started straight away with the ready-to-use reports, already formatted for you. To run a report, all you need to do is select the information you want to report on.
Visualise your data online or download your report to Excel
When using the cloud solutions that Sage Intelligence offers, you're able to visualise your data online or download your report to Excel for further manipulation.
Analyse your data the way you want to with Excel
Because we know everyone loves Excel, Sage Intelligence enables you to view your data in Excel—where you can take full advantage of the graphs, charts and slicers that make it easy to see what's going on in your business.
Easily customise existing reports or create new ones
Need a specific report? Whether you customise an existing Sage Intelligence report or create one from scratch, you are in control of the look and feel of your report.
You can also download additional reports through the Report Utility (currently only available in desktop solution).
Get meaningful insights into your business information, on the go
Sage Intelligence empowers you with immediate access to ready-to-use reports and dashboards that offer instant insights into your business without having to leave your Sage solution.