Ensure optimal performance of your services, maintenance and project management processes at virtually any touch point. Make smarter, faster service and support decisions that exceed customer expectations with Sage 300 ERP Project Management. Get the visibility and intelligence you need into all information and key performance indicators to effectively allocate resources, increase customer uptime, and enhance productivity across all business systems.
Sage 300 is highly effective project management software which allows you to successfully plan projects and get control of your projects. To deliver your projects on-time, on-budget and meet your profit objectives you need clear visibility of your resources at all times. With Sage 300 project management software you have immediate and easy access to all the information you need to help you manage your resources.
Sage 300 project management module is the ideal solution for professional services companies. Integration with Accounts software streamlines business processes and increases efficiency. Powerful control and planning functionality allows you to increase project profitability.

Increase the number of billable hours
Boost automation and productivity with streamlined workflows and improved collaboration so you can focus on your clients' needs.

Accounts payable
Your payables reflect debts that still must be paid. Review recurring expenses and note which areas, if any, you can cut expenses. If none, account for them in your new budget.
Accounts receivable
Before budgeting for next year, make an effort to close outstanding receivables. Review customer accounts to make projections about income for the next fiscal year.
How Sage 300 Project Management Benefits Organization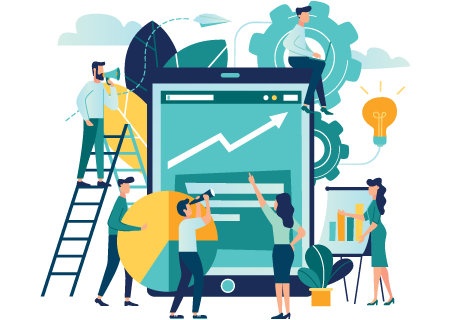 Create a job directory with job-specific contact information and set up unlimited distribution lists.
Issue prime contracts, subcontracts, purchase orders, potential change orders, and change orders, then release these items to accounting for review, approval, and use.
Create, track, and easily distribute documents, such as RFIs, submittals, and transmittals using automated delivery methods; email and fax documents directly from an entry screen.
Manage cashflow and profitability by controlling change budgets, costs, and revenue.
Access subcontract and PO status, initial, and revised totals, pending and approved changes, and amounts invoiced, retained, and paid.
Satisfy more customers
With data analytics and a holistic view into employee performance, professional services firms can ensure profitability from every client engagement. Greater insight into every aspect of your business means making better resource allocation decisions, keeping everyone on task, and identifying where the business can save money
Increase business agility and flexibility
Flexible business processes and real-time analytics offer professional services firms the ability to quickly adapt to changing client demands and increasing market pressures.
Enable virtual teams
With people and projects often spread across multiple sites, it's crucial to keep everyone working off the same information source using helpful tools to enable real-time collaboration and communication.
Future-proof your services business
Embrace cloud and mobile technologies to deliver a world-class service to your clients and adapt to an ever-changing environment.
Project planning and resource management
Identify the most effective project team.
Identify staff availability and plan in emergency resource.
Understand the cost impact of substituting staff.
Project managing and controlling budgets
Control timesheets and monitor.
View project expenses against jobs/activities.
View expenses against agreed budgets at any level.
Set Email alerts to warn when budgets are at risk
Use past project data to plan new projects.
 View the project plan and minimize risks
Get accurate, up to date project information
Track progress of project activities to prevent overruns
Track costs to maximize recovery rates
Share vital project documents across the team.
Make project timelines, budgets and staff allocation visible to defined team members.
Project management templates to improve project costing:
Use past project templates to forecast future history.
Test out scenarios to optimize budgets.
Build profitability into future projects.
Some of the features of the Sage 300 project management software which gives you visibility of your project resources allowing you to manage and control projects more effectively:
Key performance measures dashboard.
Email alerts to prevent overruns.
Extensive reporting suite with over 100 reports.
Robust, secure system for all project data.